NEWS - Blaise Smith's SCHOOLWORK wins the Allianz Business to Arts Judges Special Recognition Award - This is awarded for a project that deserves special recognition, for a relationship that stood out from all the other nominees in terms of impact, innovation and Creativity.
You can read more in a Special Business to Arts award Colour Supplement in the Sunday Independent on the 15th September. Meanwhile have a look at the Video about SCHOOLWORK below or look at the paintings here.
Ray Murray, School Principal, Jimmy Deenihan, Minister for the Arts, Blaise Smith
Leaders from the corporate and cultural sectors gathered at Bord Gáis Energy Theatre on Tuesday 10 September to celebrate the 2013 Allianz Business to Arts Awards with Arts Minister Jimmy Deenihan presenting ten awards to organisations who have achieved excellence in their collaborations.
The 2013 event marked the 12th year of partnership between Allianz and Business to Arts with Bord Gáis Energy, Accenture, Dublin Airport Authority, The Irish Times, Brown Bag Films, Barry's Tea and Brehon Capital Partners were among the leading businesses recognised at the prestigious event which was attended by 500 people, with over 100 cast and crew providing entertainment for the evening.
For the 22nd year the award has been commissioned by Dublin Airport Authority. This year's award sculpture "Balance" was made by Donnacha Cahill, a Galway-based artist known for his unique metalwork sculptures.
As well as the limited edition sculptures for the successful businesses, bursaries were also presented to artists and arts organisations with the Jim McNaughton / TileStyle €10,000 Artists' Bursary; the Dublin Airport Authority €5,000 Arts Award; and the €5,000 Allianz Community Art Prize.
Watch the Video of the making of SCHOOLWORK
Watch the video of the rather lavish Awards ceremony:
Below at the Awards: Siobhan Dowling (Head Girl) , Noel O'Neill, Blaise Smith, Someone from Allianz (?), Ray Murray Principal, Rory Healy Chair of the School Board, Sharon Murphy and Peter Thompson (Head Boy). 
JULY 24th 2013
SCHOOLWORK SHORTLISTED for an Allianz Business to Arts Award in the Jim MacNaughton Perpetual award for Best Commissioning Practice.
 The awards will be presented by the Minister for Arts, Heritage & the Gaeltacht, Jimmy Deenihan TD on September 10th, 2013.  

MAY 31st 2013
Home Economics Room from SCHOOLWORK
Selected For BP Portrait Award Exhibition 2013
2nd APRIL 2013

Read my article in the Irish Examiner:
We need to draw on our untapped ability
about why drawing is important....
MARCH 6th 2013
TALK in the RHA GALLERY, Ely Place, Dublin.
Blaise Smith is giving a talk at 5.30pm next Wednesday the 6th of March in the RHA, Ely place, entitled Art V. Painting - a personal Journey. 
Everyone is welcome and it's free. Smith will talk about the circuitous route that led him to the paintings that he now does, and he hopes that there will follow a lively discussion about the current state of figurative painting and it's relation to "ART" (if any).
Please come along and do tell anyone else that may interested.
FEBRUARY 2013
TALK in the CRAWFORD GALLERY, CORK, Thursday 7th February at 5.30pm
See here for more
Blaise will talk about his work and how it led to SCHOOLWORK
JANUARY 2013
SCHOOLWORK in the CRAWFORD GALLERY, CORK, OPENED ON 17th January until 2nd March 2012
See here for more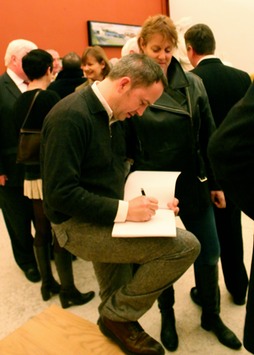 DECEMBER 2012
NEW LANDSCAPES in THE MOLESWORTH, OPENS ON 7th December 2012
See here for more
OCTOBER
Blaise Smith wins Irish News Prize at the ROYAL ULSTER ACADEMY
Mick O'Dea, this years RUA adjudicator looking at Blaise Smith's painting, An Example of Irish ingenuity which was awarded the Irish News Prize at Royal Ulster Academy's Annual Exhibition in October.
SCHOOLWORKS OPENS IN VISUAL, CARLOW, 11th October 2012
See more HERE
JULY
SCHOOLWORKS EXHIBITION
The 20 paintings Blaise Smith has completed for Presentation College (see below) will be exhibited in VISUAL, Carlow in October 2012. The opening will take place in mid October and the show will run until the 13th of January. After that the show will move to The Crawford Gallery, Cork, dates to be confirmed. 
Mary Dunne's Biology Class, 48 x 36 inches, oil on gesso panel 2012
BLAISE SMITH ELECTED ASSOCIATE MEMBER OF RHA
Blaise Smith is now Blaise Smith ARHA, on his election as an Associate member of the Royal Hibernian Academy. It is a great honour, given the people who are currently members and the previous members over the institution's history. He currently has three paintings (below) on exhibit at the RHA gallery in Ely Place, Dublin, during the Annual Summer show which runs until the 18th of August 2012. See the RHA website here.
2011 - 2012
SCHOOLWORKS
This year Blaise Smith has been commissioned to do a series of 16 paintings in Presentation College Carlow, a secondary school. The work will be exhibited in Autumn 2012
"I am attracted to this commission because "school" is very much of our time.  I think it will be very interesting to paint this present day phenomenon for posterity, partially because the "ordinary" aspects will be largely ignored in pictorial terms."
Work in progress below is the woodwork Technology Room. Click to enlarge
November 2010
New work
November 11th -27th 2010 at the Molesworth Gallery, 16 Molesworth Street, Dublin 2
telephone +353 1 6791548
email molesworth.gallery(at)indigo.ie
www.molesworthgallery.com
March 2010

Workshop:
How to Draw Accurately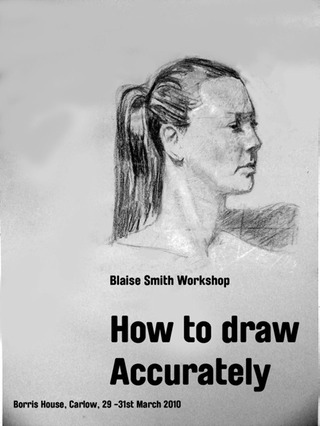 MARCH 2010
Blaise Smith will hold a three-day drawing workshop in Borris House from 
29th - 31st March 2010.
"It is possible to learn to draw accurately. There is no magic to it. Certainly, like music some can initially have more flair for it but everybody can learn simple methods for making an accurate representation of what they see before them." Blaise Smith
Working from the model Blaise will give participants some solid tools and techniques in the art of drawing. He will show them how to produce an accurate measured drawing from life using the tried and tested methods of the last five centuries. He will also explain some simple compositional devices and their practical use in making that days's drawing, such as the initial placement of the figure. This workshop will be focussed on giving participants a working method in drawing which will add to their repertoire of tools and techniques.
The model will sustain the same pose for each day. 
Each participant will receive a proportional divider and plumb line. Each participant will be expected to provide their own drawing or painting materials and paper. Large cheap sugar paper will be provided for rough work. 
Blaise Smith has been living in the Kilkenny area for the last decade. He is a well known Figurative painter and is renowned as a draughtsman of great facility. Much of his work is of the vernacular Iandscape although he is also a prize winning portrait painter, exhibiting in the BP portrait award in 2003 and 2004 at the National Portrait Gallery in London and  winning the RHA Kennedy award for portraiture in 2002, as well as 4 other awards in the RHA. He has been shortlisted for the Davy Portrait Award 2010 and a prizewinner in the Arnotts portrait Award. 
€150 per person
March 29th -31st
Borris House is one of Irelands most beautiful and historic great houses located in the most spectacular scenery Ireland has to offer. The backdrop of the river Barrow which flows adjacent to the beautiful woodland and gardens of Borris House make Borris House the jewel in the crown of Carlow's tourism destinations
The workshop will be held in the West Wing, a stand-alone double height stone building with its own entrances, heating, electricity and toilet facilities.
---------------------------